Nicolas Ephat
Nicolas was born in December 1980 to a Christian family. His primary and secondary grade education was at the Baptist Conservative Mission of Haiti. 
In 1994, at the age of 14, Nicolas accepted Jesus. He served as a Sunday School Bible Teacher, a Youth Committee Leader, and a Gospel Preacher at church. 
Nicolas attended the State University of Haiti (Ecole Normale Superieure) for his college education, where he studied modern languages and computers. For four years, he worked as an English/Spanish teacher and translator at the International Church at Callebasse. 
In January of 2007, Nicolas began serving Haiti at the United Nations as an Information System Assistant. For over ten years Nicolas was employed in this role, where he was trained as a project manager, worked in radio telecommunication, Customer Care, and served as a Logistics Operator at the UN Career database system. 
Additionally, Nicolas has earned multiple certifications including:
Certificate of Bible Studies from Nations University, Overview of the Old and New Testament
Master Series Certificate from World Bible School
Diploma in English and Biblical Studies from World English Institute
Certificate of Bible Studies from Truth for the World, Theology of the New Testament
Nicolas has been serving at the Valley of Hope Mission as a language facilitator, transcriptor, interpreter, teacher, logistic assistant, and Pastor in the Valley of Hope Church located in Doco,Petion-ville.
We are so thankful for his willingness to faithfully serve in these different roles.
Nicolas married Dorcius Linda in July of 2013. They have two daughters, Jessy and Alina Jane.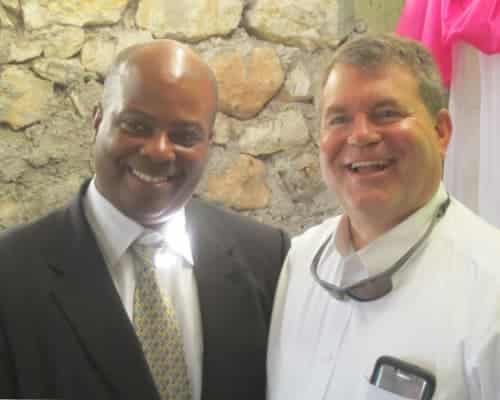 Nicolas with HUG Board Member Rev. David Lauten
Donate
By donating you can help with the ongoing efforts.
Learn More
Learn more about ministries that help the people of Haiti.
Mission Trips
Learn about mission trips to Haiti and how to plan for one.
Haiti Under God is a Christian organization sharing the love of God through education and the pursuit of sustainability while changing the lives of the Haitian people with the good news of Jesus Christ.