Pastor Julio Paul
Pastor Julio Paul, Principal of the Chacha School and Pastor at the Valley of Hope Church of Chacha.
Julio Paul was born on June 1, 1975, to a Christian family in Chacha. He attended primary school at Institution Mixt Reformed of Chacha. He also attended school at Lamardele in a rural section of Croix des bouquets. He was unable to finish secondary school due to the critical financial situation of his family, but he used this opportunity to learn how to play music.
He accepted Jesus in 1984 in a church called Chacha Church of God by Faith. He later became the teacher of youth groups in three churches in Chacha, due to his musical background. Julio's father started a church in 1978 and Julio also served as his assistant until 2010.
In 2013, Julio and his father became the two pastors of a new church: Valley of Hope of Chacha, entering into the Valley of Hope Mission.
Julio then attended the Shekinah Bible School Institute from 2013-2016. He has been able to participate in many leadership trainings organized by the Valley of Hope Mission like Experiencing God, Master Life, and much more.
Julio also participated in a training organized by the Haitian Government about the durable education development in 2018.
He has served as the Principal of the Chacha School and Pastor in the Valley of Hope Church of Chacha since 2012. He also serves as the Children's Choir teacher, teaches the Ladies Group , Fraternity Group, and Sunday School, and is a musician in the church.
He married Clotilde on January 31, 2004, and they have four sons and one daughter. Julio is a faithful servant of the Lord and influent leader in the Chacha area.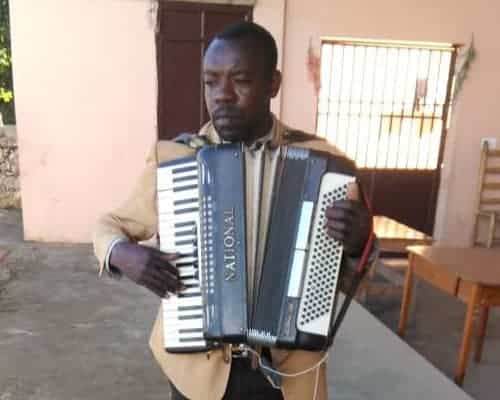 Donate
By donating you can help with the ongoing efforts.
Learn More
Learn more about ministries that help the people of Haiti.
Mission Trips
Learn about mission trips to Haiti and how to plan for one.
Haiti Under God is a Christian organization sharing the love of God through education and the pursuit of sustainability while changing the lives of the Haitian people with the good news of Jesus Christ.