Pastor Maxeau Antoine
Pastor Maxeau is the CEO of Valley of Hope Ministries, overseeing four churches, two schools, vocational schools, and the Valley of Hope Hospital.
Pastor Maxeau Antoine was born in Haiti on January 15, 1968, to a non-Christian family. At the age of 13, while attending school at the Baptist Haiti Mission, Maxeau received the gift of eternal life, believing on the Lord Jesus.
After secondary school, he went to both accounting and computer school, before returning to the Baptist Haiti Mission, where he worked as a teacher for seven years. He also attended and graduated from Bible School at Morning Star Christian Academy, located in Port-au-Prince, Haiti. Maxeau then took his studies to the United States. He received his bachelor's degree in Biblical Studies at Jacksonville Baptist Theological Seminary. He is also licensed in Biblical Studies from Cornerstone University.
In 2005, Maxeau was ordained as a pastor in the Mission Evangeliques Internationale. Maxeau later founded the Mission Eglise Evangelique Vallee de l'Espoir (Evangelical Church of the Valley of Hope) in October 2017, which has now planted four churches. Currently, Maxeau serves as the CEO of Valley of Hope Ministries in Haiti where he is responsible for four churches, two schools, vocational schools, and the Valley of Hope Hospital.
With the help of Haiti Under God and the Evangelism team, they have trained more than 15,000 pastors and church leaders all over Haiti by using the book Experiencing God and Evangecubes.
Maxeau also oversees the Feed the Hunger Feeding program in Haiti.
Additionally, Maxeau is the regional coordinator and a National Logistics Coordinator for Samaritan's Purse Operation Christian Child program.
Maxeau married Anne Dorcius in December 2002, and they have four children, two boys and two girls.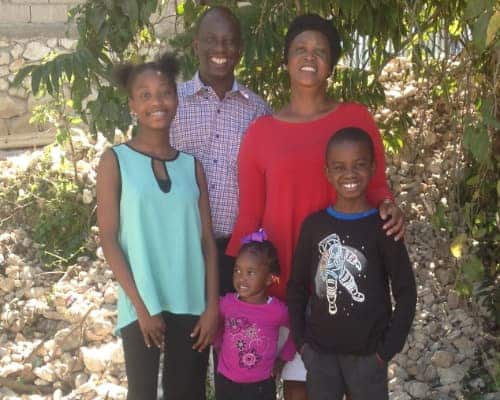 Donate
By donating you can help with the ongoing efforts.
Learn More
Learn more about ministries that help the people of Haiti.
Mission Trips
Learn about mission trips to Haiti and how to plan for one.
Haiti Under God is a Christian organization sharing the love of God through education and the pursuit of sustainability while changing the lives of the Haitian people with the good news of Jesus Christ.